Charisma Free Standing SEG Frames


You are here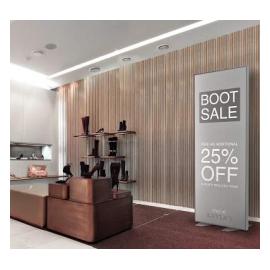 Floor standing SEG frame with base
Available in single sided or double sided frames
Choose 18" x 8-3/4" Marquis base or 11" Round base
Choose Round base when only a small base is best
Choose Vertical or Horizontal frame orientation
Spans greater than 48" require Spanner Support Bars
Silicon Edge Graphic (SEG) offers seamless graphics with no visible sew line
Silicone tubing makes for simple graphic installation
Easy to set up and break down
Frame ships unassembled
For large quantities, frames can be made to any size. Please contact us for quotation
| | | |
| --- | --- | --- |
| | | |
| 18"x8.75" Marquis base | 11" Round base: Choose Round base when only a small base is best | Spans greater than 48" require Spanner Support Bar. 120" horizontally long frame requires 2 Spanner Support Bars. |
Single sided frame
Double sided frame
Perfect display choice for airport, office, retail store and more
Easy graphic change
Model
Frame Size
Frame Style
Base
Orientation
Graphic
Material
Color
XSM23-F
24" x 36"
Choose Single side or Double side
18"x8.75" Marquis base or 11" Round base
Fixed. Choose either vertical or horizontal
Use with Dye sublimated fabric with silicon edge graphic (SEG)
Aluminum
Satin Silver
XSM24-F
24" x 48"
XSM34-F
36" x 48"
XSM35-F
36" x 60"
XSM36-F
36" x 72"
XSM45-F
48" x 60
XSM46-F
48" x 72"
XSM48-F
48" x 96"
XSM56-F
60" x 72"
XSM58-F
60" x 96"
XSM66-F
72" x 72"
XSM68-F
72" x 96"
XSM610-F
72" x 120"
XSM88-F
96" x 96"
XSM810-F
96" x 120"
XSM1010-F
120" x 120"
Description
Charisma Free Standing SEG Frames
Free standing SEG Frames accepts dye sublimated fabric graphics with a thin silicone perimeter that inserts into the groove of the aluminum frame. Graphics for all Charisma series use the Silicone Edged Graphic system (SEG) of sewing silicone strips around the edges of the graphic. Use with single or double side dye sublimated fabric graphics. Weighted bases for heavy traffic area such as mall, retail stores or museum displays.