Counter Slide In Frames

You are here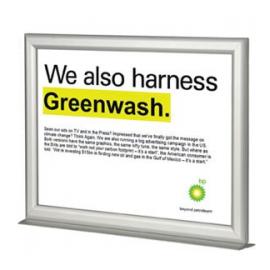 Available in 2 sizes, letter and tabloid
1" aluminum profile
Aluminum frames with mitred corners
Insert graphic from side
Available in 8.5x11 (letter) or 11x17 (tabloid) size frame
Rectangular base (feet)
Feet is attached to the frame and it is not detachable
Frames accept regular paper
2 non-glare clear cover included
Use included rubber seal to block side opening
Use included double sided 3M tape to attach base to the fixture, wall or table
Frames are open 2 sides
Use 2 regular paper back to back or double sided sign for front and back viewing
| | | | |
| --- | --- | --- | --- |
| | | | |
| Shown 8.5" X 11" Horizontal orientation silver finish | Shown 8.5" X 11" Horizontal orientation black finish | Graphic insertion from side slot | 2 non-glare clear cover included |
| | | | | |
| --- | --- | --- | --- | --- |
| | | | | |
| Double sided 3M tape at the bottom of the feet to attach the frame on fixture or table | Rubber seal to block frame opening | Side shown with rubber seal inserted | Attaching base to the wall change the orientation of the frame. Great for outdoor such as gas station | Viewable area: 1.4" margin is covered by the frame |
Model
Graphic Size
Base Size
Orientation
Viewable side
Lens
Material
Color
UCA255-8511
8-1/2" X 11"
50mm (Approx. 2")
Choose Horizontal or Vertical
Double sided
2 clear lens included
Aluminum
Silver or Black
UCA255-1117
11" X 17"
Description
Counter Slide In Frames
Counter Slide in Frame comes with 2 clear anti-glare covers, a sealing rubber on the open side and double-sided tape at the bottom feet. With double sided 3M tape, you can attach the base to the wall or fixture. The frame is suitable for outdoor use with a included sealing rubber applied on the open edge. Frames are open 2 sides for front and back viewing. Offered in 8.5x11 (letter size) and 11x17 (tabloid size) to use with regular paper.