Snap Frame Menu board Display Stands

You are here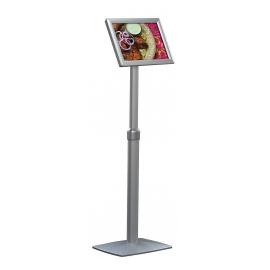 Frame size offered in 8.5"x11", 11"x17" or 18"x22"
Frame can be set in Portrait or Landscape
Angled Frame for easy viewing of menu board display or any signs
Aluminum snap frame allows quick and easy graphic changes
Frames snap open & close
Includes clear protective lens for graphic
Weighted base
Available in silver finish
| | | | |
| --- | --- | --- | --- |
| | | | |
| Decorative model in portrait (vertical) orientation | Decorative model in landscape (horizontal) orientation | Flexible model in portrait (vertical) orientation | Flexible model in landscape (horizontal) orientation |
| | | | | |
| --- | --- | --- | --- | --- |
| | | | | |
| Decorative model frame angle | Flexible model offers multiple angles | 8.5x11 frame in portrait position | Setting 11x17 frame in landscape position | Weighted base |
| | | | |
| --- | --- | --- | --- |
| | | | |
| All unit comes with snap frame with clear cover | Easy graphic change. Accepts regular paper | Decorative stand comes with round snap frame | Flexible stand comes with mitred snap frame |
Model
Name
Snap Frame
Graphic Size
Orientation
Base
Lens
Material
Color
UDMB1N0581
Decorative
Round corner
8.5" x 11"
Horizontal or Vertical
Retangular base
Clear lens included
Aluminum
Silver
UDMB1N0517
11" x 17"
UDMB600581
Flexible
Mitred corner
8.5" x 11"
UDMB600517
11" x 17"
UDMB500518
18" x 22"
Description
Angled Snap Open Poster Frame Menu Board Pedestal Stand available in 3 Different Sizes, 8.5"x11", 11"x17", 18"x22"
Multi-functional design in one sign stand. The Flexible Snap Frame Menu board Display Stand fulfills multiple functions thanks to its adjustable height and position applications through various standing angles on the back. Snap Frame can be set in vertical or horizontal and various angles, and comes with non glare clear lens to protect your sign. The Decorative Snap Frame Menu board Display Stand shares the similar functions for less price. To adjust the orientation of this sign stand simply flip the framing around. Pole style and frame corners vary depending on stand style. This sign stands are especially preferred by hotels, museums, restaurants, and retail stores.